We'll see you at the Richland Relay for Life this Friday, beginning at noon in the Township Park.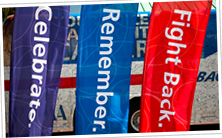 The Branch County Relay For Life Committee is having PreRegistration for Survivors at The CHC Conference & Cancer Center in Coldwater Thursday, 6/13 from 10am-3pm. They'll be accepting registrations during Strawberry Fest on Saturday, June 15 too. 
Battle Creeks event at Lakeview High School is Red, White, and Blue in July. 
Lansings Relay , East Lansing , Help make more birthdays and find an event near you http://www.cancer.org/ .