Cow Jam Music Fest is Back With WIN 98.5
Cowboy Up Presents the 2013 Cow Jam Music Fest!
The 2013 Cow Jam Music Fest promises to be the biggest and best yet! The outdoor music festival in Mendon, Michigan located on M60 behind Cowboy Up will feature Big Machine Records recording artist Justin Moore & Nashville recording artist Josh Thompson. Other performers include Gunner & The Grizzly Boys, Kris Hitchcock & Small Town Son, The Scott Thompson Band and The Dani Jamerson Band! Cow Jam will also feature vendor booths, shopping on-site, a beer garden, 2 full service bars located inside of Cowboy Up, food booths, kids activities, camping and more.
Ticket Information for Cow Jam Music Fest 2013
Reservations can be purchased at ticketleap.com or at cowboyup.com with kids 10 and under getting in free. Pre-sale ticket special pricing is $25 from now until July 1st with the price going to $35 after July 1st.
Gate Information
The music fest opens at noon on August 3rd with music starting at 3pm. Also after the music ends at the Festival on Saturday August 3rd, The Douglas James Band will be playing inside of Cowboy Up until 2am in addition to his performance Friday night August 2nd for the campers spending Friday night. Bring your lawn chair or blankets, general seating. No coolers permitted! ATM is located inside of Cowboy Up.
Congratulations to our Brush With Fame Winner: Trisha Utter
Best Seat In The House
Priority Seating and Much More
WIN the Best Seat in the house at Cowboy Up, Mendon. Cowjam Music Festival's coming Saturday, August 3rd with Dani Jamerson, Scott Thompson Band, Kris Hitchcock and Small Town Son, Gunner and the Grizzly Boys, Josh Thompson, and Justin Moore. See Cowjam's bands up close and keep the oak pub table and chairs from from Parlins Home Furnishings, Sturgis. Courtesy of Parlins Home Furnishings in Sturgis.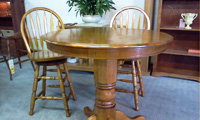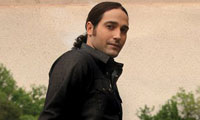 Cow Jam Featured Artists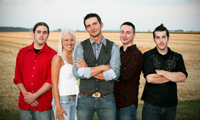 The Scott Thompson Band
Band Plays At: 1:50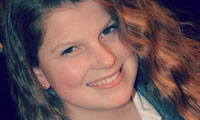 Allie Shermetaro
Band Plays At: 2:50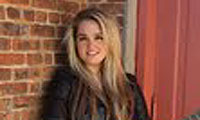 The Dani Jamerson Band
Band Plays At: 3:40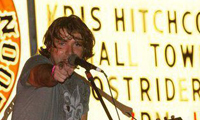 Kris Hitchcock and the Small Town Son
Band Plays At: 4:50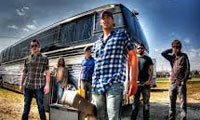 Gunner and the Grizzly Boys
Band Plays At: 6:00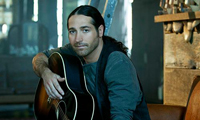 Josh Thompson
Band Plays At: 7:30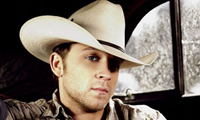 Justin Moore
Band Plays At: 9:30
Cow Jam Music Fest Sponsors
Frontier Communications
D & R Sports Center
Classic Mortgage Company
AIM Asphalt
The Western Breed
Battle Creek Family Dentistry
Double L Bait & Marine
HQ Salon & Spa
All You Need Grand Rental
Parlins Home Furnishing
Ladies & Lead
Southside Sportsman Club
Brewster's Smokehouse
Cowboy Up
WIN 98.5
Gentry Auto Sales