WIN 98.5 Presents the Golden Apple Awards
WIN 98.5 and our sponsors are proud to support our Golden Apple award winner!
Each month WIN 98.5 will recognize an area student and an area teacher that has been nominated for our Golden Apple award. Parents and friends are welcome to nominate a hard working high school or college student or teacher. Our monthly winner will receive a prize package from our supporting sponsors...Kellogg Community College, Thomas and Maxson Doors and Windows, Bob Janvrin Auto Body, Lafayette Auto Parts, AIM Asphalt, M-66 Bowl, and Professional Towing.
The May Teacher Winner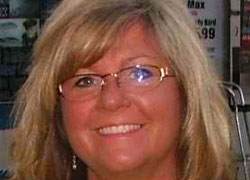 Name: Kathy Corravo
Reason for Award: My teacher is so caring and kind. She is the type of teacher who will get down on her hands and knees to help you and your family with whatever you need. She always puts her students first which is what I feel a teacher should do. Not only is she courteous to others but she is also a very good teacher! She's not the type who goes and tells you to read out of the book the whole day, she makes things hands on with the whole class. She makes everyone feel super Important no matter who they are. She treats everyone with equality. She can always tell if a student is down and try's to put a smile back on there face. If you don't get something she will take time out o time with her family to let you stay after and help you learn what you didn't get. Mrs. Corravo deserves to be the golden apple teacher! She appreciates it all and would be so ecstatic to have this award!
The May Student Winner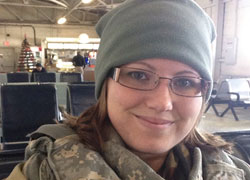 Name: Nichole Peterson
Reason for Award: Nichole is an exemplary student. She is consistently on the Dean's list while she is working on her Bachelor's degree. She is a full time mother of 2, full time student and holds a full time job with the Federal Center. For her work she is currently serving a six month tour in Afghanistan with our military as a Department of Defense Civilian helping our military men and women with making their jobs safer. In her "spare time" away from her 80 hour work week when her base is getting bombed and shot at, she continues taking her online classes, maintaining her position on the Dean's list, so she can finish her degree. She absolutely defines excellence as a student, mother and individual.
The Golden Apple Award Candidates
Elect Your Favorite Student or Teacher