Beloved Hymntime Country Style host Jimmy C passes away
There's a special benefit showing of "Amazing Grace" at Cornwells's Turkeyville Friday, March 22nd. Proceeds for Jimmy C.'s family. For reservations, call 269-781-4293. http://www.turkeyville.com/
BATTLE CREEK (WNWN-FM) -- Since 1997 Jim Collins or Jimmy C as we knew him on WIN 98.5 was the host of Hymntime Country Style. Every Sunday morning it was Jimmy's voice that coined the phrase Hymntime Country Style...on WIN 98.5!
Jimmy C passed away after a long battle with lung disease Friday.
In addition to hosting Hymntime Country Style for over 17 years Jimmy C was also an EMT with Emmett Township and an IT professional with Olivet College.
He is survived by his wife of nearly 35 years Terry, their 3 children, many grandchildren and a large amount of friends.
Jimmy C's official bio on wincountry.com:
"Jimmy started in radio at a small town Christian station in central Michigan and move to a couple of stations in Battle Creek. Came to Win 98.5 as a part-timer in 97 and started hosting Hymntime Country that year. Join us each and every Sunday morning for the best southern and country gospel music on the air. Lives in Bellevue with my lovely wife- Terry their son Terry II and Jake and Daisy- the pugs who rule the world".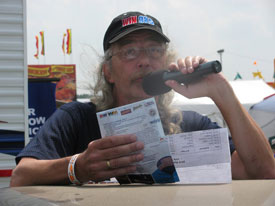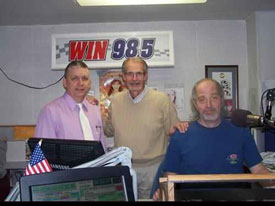 Your Memories of Jimmy C
Dennis M - I really enjoyed working with Jimmy C at WIN 98.5. He was a positive, caring, spiritual and enthusiastic person who loved his family and being host of Hymntime Country Style. Our thoughts and prayers go out to his family.
william heinrich - i will never for get the fires we fought together, the medical rund from the old emmett rescue squad, or the talks we had when i requested a special song from uncle jimmy roberts...bless you jimmy c and your family..till we meet again brother
Squelch - I worked at WNWN from 2006-2010 and I have some great memories of Jimmy. He was always a jokester with me on air, and was one of the nicest guys I got to know in radio. He will be missed.
Tim Harris - He was the kindest soul you could ever know... Always with a smile and a handshake for everyone! I don't believe he ever spoke a ill word about anyone. His voice, his kindness, and his generosity will NEVER be matched. May you rest in peace my friend and Thank you for your friendship! Tim Harris (Tim & Kim in the Morning 06' - 07')
Doug Struble - Truly a great man you will be remembered by many, but not forgotten. I am not a regular church goer, but I always made sure I was up in the morning for his Sunday Hymntime. He would also play Roses for Momma for me since she passed away several years ago and she loved roses. I would even take my portable radio in the woods with me when I went hunting, just to listen to him..
Tammy Linton - Rest in Peace, Jimmy.
Nancy Michiels - Jimmy will be missed by many. His kindness, gentleness and helping nature was an inspiration to everyone, including us. Goodnight, good friend. Keep the light on for us!
Peggy - There won't ever be another DJ that matches Jimmy C. What a wonderful Christian man. Loved his program every Sun. morning as I got ready for church. He'll be missed more than he could ever know! He'll be singing with the angel band now.
Perry Lambert - I had the honor of meeting Jim through the broadcasting program at KCC in 1995-96, and we had been friends ever since. I will always hold the memories of KCC, and working at WIN, with him very dear to my heart. Until we meet again, old, dear friend...you will be sorely missed.
James Goodnoe - When Jimmy C came to work at Olivet College, one day I stopped him and said "You sound like the guy who does Hymntime Live" and he replied "A lot of people tell me that and smiled". He was always so kind and cared about everyone. When my wife passed away in 2011, he came to her memorial service, that ment a lot to me and my family" May you rest in peace Jimmy C. God has called another angel home.
KELLY MCCUNE - he helped me every Sunday when my husband was over in IRAQ fighting for our freedom ha would always play American solider by TOBY KEITH let me tell you from an army's wife point of view it sure did make the time go by a lot faster THANK YOU FOR helping me deal with my husband deployment it was 6 years ago but i sure remember JIMMY C helping me through that time i would just like to say THANK YOU THE MCCUNE FAMILY
Helen Hudson Stanley - my condolences he was a great man listened to him every sunday, R.I.P. dear friend