Ladies and Lead
Ladies and Lead is dedicated to showcasing the growing influence of women on firearms safety and training.
---
My name is Monica Ferrucci, and I work at D&R Sports Center in Kalamazoo, MI in the Gun Department. I currently work full-time and am an NRA Certified Firearm Instructor and teach a variety of Firearm Classes. I am so blessed to be able to pursue my passion of Firearm Education and Safety. Helping women make informed decisions based on their own Personal Safety needs. What works for me isn't always the right decision for others. Being flexible and helping people become aware of their environment and options enables them to make the right choice for themselves. I can present the options and let each individual pursue their own comfort level. Whether they are just becoming aware of gun safety, learning how to handle firearms, learning about firearms stored in their environment, learning to shoot, or just learning the facts. It's all about education and safety, once you have the facts you can make an informed decision! Happy Learning! I am so excited about working with www.wincountry.com on the Ladies' & Lead Program! Being able to reach out to listeners and give them an introduction to firearms!.
Education is empowerment and key to controlling your environment! Let me know what questions you have! This is for all the women out there! Let's get started learning together.
---
Next Ladies and Lead Event
February 28th Ladies and Lead seminar at D & R Sports Center 8178 West Main Street Kalamazoo Michigan. 6pm to 8pm. Hosted by WIN 98.5 and NRA Instructor Monica Ferrucci. Introduction to Handgun Safety and Personal Defense. NRA Certified Instructor-Monica Ferrucci, will discuss handgun use and safety for in-the-home personal protection. She will outline laws and requirements for obtaining a concealed pistol permit, as well as options for further protection. We will test shoot indoors with an air soft gun, also display and discuss new products, and different styles of handguns and their use. Door prizes and refreshments provided.
---
Ladies & Lead Home Party!
The new trend in Firearm Education is in-home parties. Just like tupperware, jewelry, home decorating, and candle parties. Now you can learn exactly what you need to know about Firearms in the comfort and relaxed atmosphere of your home. I have been approached by countless people who want me to teach their family about Firearm Safety and helping them become aware of their environment.
I find that when people take the time to educate themselves about firearms it removes the fear factor. There should always be a healthy respect for the power of any gun. By learning how to safely handle, unload & load, and a sense of how firearms function you place yourself firmly in control of your environment. You may never need the information you learn, but if you ever do need to draw on that information you can handle it.
In the relaxed environment of your home and with people you know, you are more apt to ask the questions you may not raise in a large group. You can learn at your own pace. I have coached one-on-one or in private groups up to two dozen. The idea is foster safe gun handling skills, and basic firearm fundamentals to raise your self-confidence by educating yourself to make an informed decision. Where you go from there is your choice!
The price of the classes start as low as $100, and varies based on several factors: class size, student participation experience, and levels of customization.
For more information, contact Monica Ferrucci, at D&R Sports Center, Kalamazoo, MI, 269-372-2277 or my email monica @dandrsports.com.
---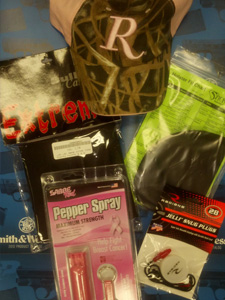 Gift pack courtesy of D & R Sports Center!
---