« back to Movies
Marmaduke
Release Date: June 4, 2010
Genres: Comedy, Family
Cast: Owen Wilson, Emma Stone, George Lopez, Christopher Mintz-Plasse, Steve Coogan, Fergie, Keifer Sutherland, Marlan Waylans, Damon Waylans Jr., Sam Elliott
Directors: Tom Dey
Official Site: http://www.themarmadukemovie.com/
Distributor: 20th Century Fox
For Phil and Debbie Winslow, moving their family from Kansas to the O.C. is a big deal. For their enormous Great Dane "Marmaduke," however, the move means a whole new way of life. It's chaos at home and awkward at work as the Winslows struggle to control their angsty teenage canine.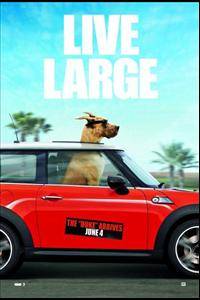 Show Times / Buy Tickets
There are no current showings for Marmaduke in this area.