« back to Movies
Parker
Release Date: Jan. 25, 2013
Genres: Suspense/Thriller
Cast: Jason Statham, Jennifer Lopez, Nick Nolte, Michael Chiklis, Clifton Collins Jr., Wendell Pierce, Patti LuPone, Emma Booth, Billy Slaughter, Kirk Baltz
Directors: Taylor Hackford
Official Site: http://www.parkermovie.com/
Distributor: FilmDistrict
Parker, is a hardened professional criminal who will do whatever it takes to get what he wants, living by his own code of ethics - don't steal from people who can't afford it and don't hurt people who don't deserve it. But when he's double-crossed by his crew and left for dead, it's time for payback.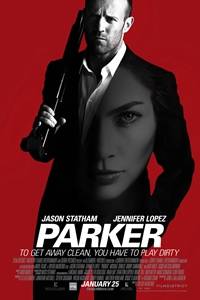 Show Times / Buy Tickets
There are no current showings for Parker in this area.