« back to Movies
Jurassic Park 3D
Release Date: April 5, 2013
Genres: Action/Adventure, SciFi/Fantasy
Cast: Sam Neill, Laura Dern, Jeff Goldblum, Richard Attenborough, Bob Peck, Martin Ferrero, Joseph Mazzello, Ariana Richards, Samuel L. Jackson, BD Wong
Directors: Steven Spielberg
Official Site: http://www.jurassicpark.com/maingate_flash.html
Distributor: Universal Pictures
Universal Pictures will release Steven Spielberg's groundbreaking masterpiece JURASSIC PARK in 3D on April 5, 2013. With his remastering of the epic into a state-of-the-art 3D format, Spielberg introduces the three-time Academy Award®-winning blockbuster to a new generation of moviegoers and allows longtime fans to experience the world he envisioned in a way that was unimaginable during the film's original release.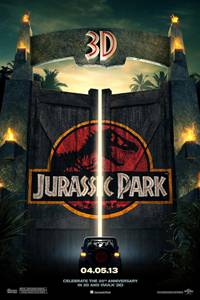 Show Times / Buy Tickets
There are no current showings for Jurassic Park 3D in this area.