« back to Movies
Movie 43
Release Date: Jan. 25, 2013
Genres: Comedy
Cast: Emma Stone, Seann William Scott, Kristen Bell, Gerard Butler, Christopher Mintz-Plasse, Halle Berry, Hugh Jackman, Anna Faris, Kate Winslet, Johnny Knoxville
Directors: Elizabeth Banks, Steven Brill, Steve Carr, Rusty Cundieff, James Duffy, Griffin Dunne
Official Site: http://www.facebook.com/WhatIsMovie43
Distributor: Relativity Media
An outrageous new ensemble comedy starring some of the biggest names in Hollywood. Movie 43 is not for the easily-offended and contains jaw-dropping, sometimes shockingly disturbing, but always entertaining intertwined storylines you'll have to see to believe.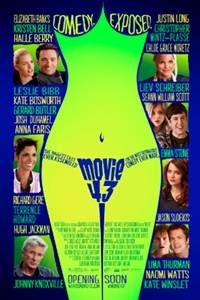 Show Times / Buy Tickets
There are no current showings for Movie 43 in this area.