« back to Movies
Oblivion: The IMAX Experience
Release Date: None
Genres: Action/Adventure, SciFi/Fantasy
Cast: Tom Cruise, Morgan Freeman, Olga Kurylenko, Andrea Riseborough, Nikolaj Coster-Waldau, Melissa Leo
Directors: Joseph Kosinski
Distributor: Universal Pictures
Jack Harper is one of the last few drone repairmen stationed on Earth. Part of a massive operation to extract vital resources after decades of war with a terrifying threat known as the Scavs, Jack's mission is nearly complete.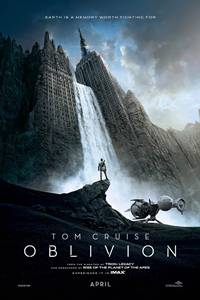 Show Times / Buy Tickets
There are no current showings for Oblivion: The IMAX Experience in this area.