« back to Movies
Escape Plan
Release Date: Oct. 18, 2013
Genres: Action/Adventure, Suspense/Thriller
Cast: Sylvester Stallone, Arnold Schwarzenegger, Curtis Jackson, Jim Caviezel, Amy Ryan, Vincent D'Onofrio, Vinnie Jones, Sam Neil, Faran Tahir, Matt Gerald
Directors: Mikael Håfström
Official Site: http://EscapePlanMovie.com
Distributor: Summit Entertainment
Ray Breslin, the world's foremost authority on structural security, agrees to take on one last job: breaking out of an ultra-secret, high-tech facility called "The Tomb." But when he is wrongly imprisoned, he must recruit fellow inmate Emil Rottmayer to help devise a daring, nearly impossible plan to escape from the most protected and fortified prison ever built.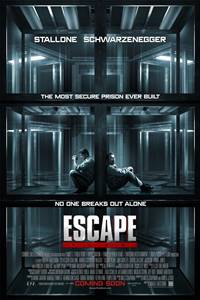 Show Times / Buy Tickets
There are no current showings for Escape Plan in this area.