« back to Movies
Legends of Oz: Dorothy's Return
Release Date: None
Genres: Animation, Family, Musical
Cast: Lea Michele, Martin Short, Dan Aykroyd, Kelsey Grammer, Jim Belushi, Megan Hilty, Hugh Dancy, Oliver Platt, Patrick Stewart, Bernadette Peters
Directors: Daniel St. Pierre, Will Finn
Official Site: http://www.legendsofozmovie.com/
Distributor: Clarius Entertainment
Dorothy's only just returned home from her first incredible journey to Oz, but she's already being called back for another adventure! After waking to post-tornado Kansas, Dorothy and Toto are whisked to Oz on a magical rainbow mover sent by their old friends the Scarecrow, the Lion and the Tin Man. Time in Oz has passed much faster than back in Kansas, and Dorothy discovers that the Jester - the devious brother of the Wicked Witch of the West - is taking Oz over one region at a time, holding their leaders captive and casting a pall of darkness over the beloved land. Even Glinda is unable to combat the Jester's evil powers, making Dorothy their only hope.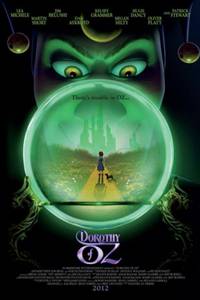 Show Times / Buy Tickets
There are no current showings for Legends of Oz: Dorothy's Return in this area.