« back to Movies
A.C.O.D.
Release Date: None
Genres: Comedy
Cast: Adam Scott, Richard Jenkins, Catherine O'Hara, Amy Poehler, Clark Duke, Jessica Alba, Jane Lynch, Mary Elizabeth Winstead, Adam Pally, Kacie Jo Marta Nickles
Directors: Stu Zicherman
Official Site: http://www.acodmovie.com
Distributor: The Film Arcade
A.C.O.D. follows Carter, a seemingly well-adjusted Adult Child of Divorce. Having survived the madness of his parents' divorce, Carter now has a successful career and supportive girlfriend. But when his younger brother gets engaged, Carter is forced to reunite his bitterly divorced parents and their new spouses for the wedding, causing the chaos of his childhood to return including his wacky therapist.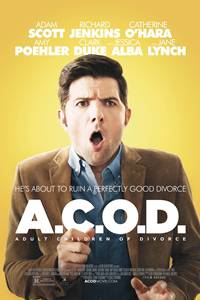 Show Times / Buy Tickets
There are no current showings for A.C.O.D. in this area.