« back to Movies
Alone Yet Not Alone
Release Date: None
Genres: Drama
Cast: Kelly Greyson, Natalie Racoosin, Clay Walker, Jenn Gotzon, Joanie Stewart, Ozzie Torres, Tony Wade, Robert Pierce, Joseph Gray, James Hartner
Directors: Ray Bengston
Official Site: http://www.facebook.com/aloneyetnotalone
Distributor: Integrated Media
Fleeing religious persecution in Germany, the Leininger family seeks a new start in America. In a terrifying raid, Delaware warriors kidnap the two young Leininger daughters and attempt to indoctrinate them into native culture. The eldest, Barbara makes a daring escape, pursued by her captors through wild and dangerous terrain.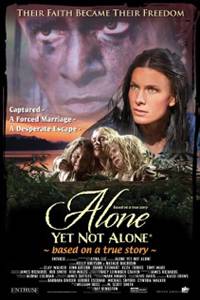 Show Times / Buy Tickets
There are no current showings for Alone Yet Not Alone in this area.