« back to Movies
Rumors of War
Release Date: None
Genres: Suspense/Thriller
Cast: Eric Roberts, Jennifer Cooper, Ben Davies, Mac Powell, Jaci Velasquez, Michael Joiner, Jason Burkey, Shannen Fields, Brad Stine, Lee Garrett
Directors: Paul Tomborello
Official Site: http://www.rumorsofwarsmovie.com/
Distributor: Bearfruit Films
Rumors of Wars is a redemptive thriller with two converging storylines. Roxy, an aspiring college journalist, finds herself searching for answers when she investigates end time prophecies for a term paper. Recording her research in a diary, her findings prove to have more of an impact than she could have ever imagined.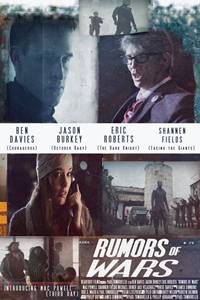 Show Times / Buy Tickets
There are no current showings for Rumors of War in this area.