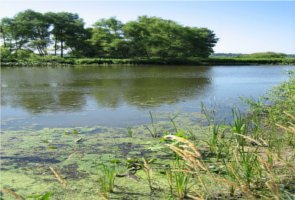 MARSHALL (WKZO) -- The smell of oil hangs heavy in the air around the city of Marshall as oil recovery crews worked into the night to try and recover as much of a huge oil spill as possible from the creeks in Southern Calhoun County that lead into the Kalamazoo River. Enbridge Energy, a Canadian firm, which owns the pipeline, is paying for the effort, although it's not clear if they can reverse all the environmental damage it may do.
In fact they can't say how far its spread or how much it will take to clean up, or if that's even possible. They estimate that 19,500 barrels of crude oil may have leaked from a 30 inch high pressure oil line before they were able to turn the valve and stop the flow. Some of the oil may be impossible to recover.
Like the BP oil spill, the company responsible, Enbridge Energy says it will pay for the cost of the clean-up, but it may not be equipped to prevent environmental damage first in the Marshall area and downstream.
Weeks of heavy rains have swollen the creeks and the River and oil is getting past their booms and barriers and slowly making its way downstream to Battle Creek, Kalamazoo and eventually Saugatuck and Lake Michigan. Birds coated with oil are already turning up. If you see impacted wildlife, there is a phone number you can call. It's 800 306 6837.
Calhoun County has issued an advisory that people should stay out of the Kalamazoo River because of that oil spill. That means, no fishing, no swimming and no contact. They say it shouldn't impact drinking water, which comes from groundwater, at least in the short term. Right now it may be impossible to say what the long term impact the huge oil spill may have on the environment.