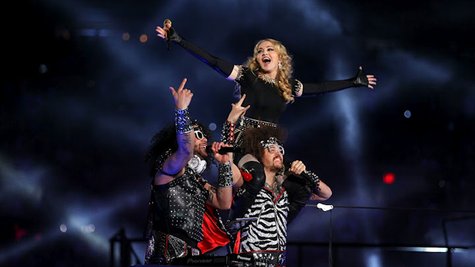 There were no wardrobe malfunctions during Madonna 's halftime show at Super Bowl 46 Sunday, but the NFL and a television network did apologize for a middle finger. Madonna was joined by the singer M.I.A. for a performance of Madge's new single, "Give Me All Your Luvin'" when M.I.A. flipped her middle finger during her rap, which was just caught on camera as NBC tried to blur it. According to Entertainment Weekly , an apology was issued immediately from NBC Sports, saying, "We apologize for the inappropriate gesture that aired during halftime, it was a spontaneous gesture that our delay system caught late." NBC also noted that the league and not the peacock network, was in charge of the halftime show. The NFL issued a statement throwing some blame at NBC: "There was a failure in NBC's delay system. The obscene gesture in the performance was completely inappropriate, very disappointing and we apologize to our fans."
Madonna's halftime show began with the 53-year-old queen of pop being pulled into Lucas Oil Stadium by dozens of muscled soldiers of antiquity as the unmistakable opening beats of "Vogue" kicked in. Madonna was perched on a throne, dressed in a gold robe which she soon threw off to reveal an outfit befitting a Roman or Greek goddess, featuring a black skin tight top and gold skirt, complete with thigh-high black boots and head piece. The word Vogue, stylized after the famous magazine masthead, was projected multiple times on the stage, which was also filled with backing dancers, maintaining the "goddess of music" theme.
As "Vogue" ended, the tune "Music" eased in. This part of the set featured acrobatic break dancers -- a la the song's original music video -- and Madonna proved her athleticism, turning cartwheels and performing headstands next to a performer perched on a wire. She was joined by the dudes of LMFAO dressed like funky space warriors as their hits "Party Rock Anthem" and "Sexy and I Know It" were mashed-up with "Music." Projections made the stage look like a giant old-school beat box.
That was followed by her new single, "Give Me All Your Luvin,'" complete with football cheerleaders and guests M.I.A. and Nicki Minaj , who swept in to deliver their respective parts on the song. Billboard reports M.I.A. flipped the bird while saying the lyrics, "I'mma say this once, yeah, I don't give a s**t."
The stage was bathed in red and white to match the cheerleader's outfits and the chant of "L-U-V Madonna" rang throughout the stadium. Madonna danced with gold pom-poms.
A marching band led by Cee Lo Green dressed as the band leader in red than appeared as snippets of "Express Yourself" and "Open Your Heart" were thrown into the mix, with Cee Lo sharing the vocals.
For the final song, the stage grew dark as strains of "Like a Prayer" began. With a quick-change, Madonna and Cee Lo appeared in black sequin floor-length robes, supported by a choir of backup singers and twinkling flashlights in the stands. As the performance reached a climax, Madonna suddenly dropped down a hatch surrounded by white smoke as the words "World Peace" were projected onto the field.
Copyright 2012 ABC News Radio