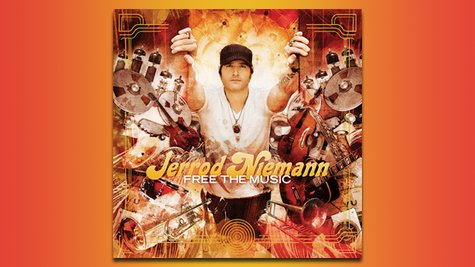 Jerrod Niemann 's new album, Free the Music, is in stores this week featuring his latest hit, "Shinin' on Me." He co-wrote that song with his pal Lee Brice , and it tells the story of a guy who often has a rough time actually having a good day. Jerrod and Lee had to find a different ways to say things are looking sunny in the lyrics though. That's when they came up with the line you'll hear in the second verse, "The man in the moon, yeah, he's alright/He must've flipped on the switch when he left last night."
Jerrod tells ABC News Radio, "What I loved, what we stumbled onto in writing it -- the thought of the light flickering on at the end of the night. Like, the moon is headed out, and the sun's coming in, and before it rolls out, it says, 'Hey, you know what, boom, here's a good day.'"
Jerrod hopes this song brings a little bit of sunshine to listeners going through hardship for whatever reason.
"I just think it's a time to let everybody know that, hey, you know what, we may be facing some rough times, but we are still in the greatest country in the world," Jerrod says. "So, ladies and gentlemen, don't be afraid to crank it up."
Jerrod encourages fans to turn up the volume on his entire new album, Free the Music , when they pick it up or download it this week. The album kicks off with a segment of Dixieland horns before going straight into the more modern-sounding title track. Those horns are also featured on the album's final song, "Fraction of a Man." Jerrod designed it that way so the album wouldn't really have a clear beginning and end if you listen to it on repeat.
He says, "Freeing the music for me is cranking it up and letting music be a part of your life and whatever you do. It makes things fun. It makes things healing, and it's a never-ending process."
Jerrod also included horns on "Shinin' on Me," and he was inspired by just about every musical style that has merged with country music in the past while making Free the Music .
He says, "There are tones and textures clear back from the '20s that we have revisited. There are many different types of influences from the Dixieland to Western swing to Chicago style to rockabilly."
No matter what era of country music Jerrod is drawing from, fans can know he spent a long time making sure all aspects of the project were just right.
"Every single note on this album was thought of and deliberately put there and arranged," Jerrod tells fans. "So, I hope that you'll give a chance, and all I can say is, see that little dial right there in front of you? Crank it up, and free the music. "
Copyright 2012 ABC News Radio