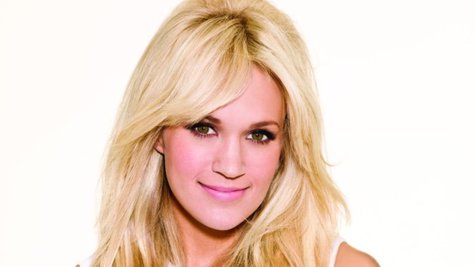 Carrie Underwood was surprised by Brad Paisley onstage Sunday night at her show at Nashville's Bridgestone Arena. Brad came out to sing their hit duet "Remind Me," and Carrie actually wiped away tears from her eyes because she was so shocked Brad was there. Several celebrities dotted the crowd including fellow American Idol alums David Cook and Lauren Alaina . Vince Gill and Kix Brooks also took in the show.
Carrie noted that she is at the Bridgestone Arena quite a bit since her husband Mike Fisher plays for the Nashville Predators NHL team. When they walked into the venue earlier in the day, Mike told Carrie, "You're on my turf now." Carrie shot back telling him "I was here first." This is Carrie's third time headlining the big arena in Nashville since 2008. Mike came to the Nashville Predators just last year.
Carrie also welcomed opener Hunter Hayes to sing a duet of "Leave Love Alone" during her set. During Hunter's set, his record label staff surprised him onstage with a platinum plaque for his #1 hit "Wanted."
Copyright 2012 ABC News Radio