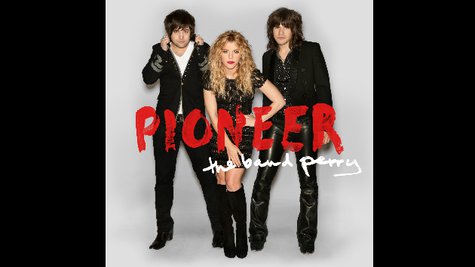 The Band Perry 's sophomore album, Pioneer , is now in stores, and the sibling trio is out to expand people's perception of that word, "pioneer," beyond covered wagons and bonnets. That's why they're dressed in cutting edge clothes on the cover, and you might also notice they're leaning forward in that cover photo too.
The group's Neil Perry tells ABC News Radio, "There's so much to be discovered still. And if you look at the cover as well, we're kind of leaning forward. So, we wanted to point out that there's a forward motion with The Band Perry. We're marching on."
That pioneering spirit showed up in the musical choices The Band Perry made on the album too. Lead singer Kimberly Perry describes their style as "modern throwback," and the acoustic sound that marked hits like "You Lie" and "If I Die Young" is still represented on Pioneer . But some tracks push the envelope a little more, incorporating the Perrys' shared love for rock and roll. One track, "Forever Mine Nevermind," features Brad Paisley on guitar as well as high harmonies from the Perry boys inspired by the rock group Queen .
"This very modern output of music from us probably also has the most amount of teeth of anything that we've had," Kimberly says of their new musical direction. "Most aggression. Multiple electric guitars. Some very bold musical moments."
Finding that new direction wasn't easy for The Band Perry, and they had a lot of questions about where to go next after scoring a huge hit with "If I Die Young." They address that early confusion with the title track, "Pioneer."
Speaking of that track, Reid Perry explains, "It asks, 'Where are we going? What will become of us?' It in itself is a question, and the question we were asking, and we didn't have a lot of the answers. Only that there was this unknown that we were marching into, but that we just had to put one foot in front of the other. So, that, for us, is what Pioneer is."
Pioneer has already produced another #1 hit for The Band Perry with "Better Dig Two." The video for the second single, "DONE.," hits Vevo Tuesday. Look for The Band Perry to talk about their new album on ABC's Nightline Tuesday night.
Copyright 2013 ABC News Radio