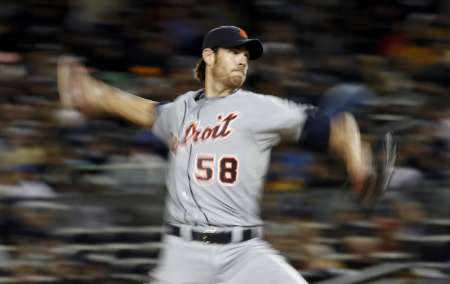 The Tigers are back in Detroit for their home opener this afternoon against the Yankees after starting the season with a series loss at Minnesota, where Thursday the Twins broke it open late for an 8-to-2 victory in the rubber game of the 3-game series.
Detroit trailed 3-to-2 when Minnesota roughed up reliever Bryan Villarreal for a five spot in the eighth inning. All five runs scored with two outs. The loss went to Tiger starter Rick Porcello, who gave up a pair of home runs and 6 hits with 2 walks and 2 strikeouts over 5-and-a-third innings.
The Tigers had an early 2-to-0 lead after a Twin's error in the first led to a run and another error in the third set up an RBI single by Miguel Cabrera. Detroit was 1-for-10 with runners in scoring position. Doug Fister will be on the mound for the Tigers this afternoon against the Yankees. With bullpen concerns heading into the season and a blown save already from Phil Coke Wednesday against the Twins, the Tigers will take another look at Jose Valverde, who agreed to a minor league contract on Thursday after the club decided against offering him a deal in the offseason. The 35-year old Valverde went unsigned following a dismal performance for Detroit in last year's playoffs when the veteran closer gave up nine runs and 11 hits in four postseason appearances. Valverde, who will report to the Tiger's spring training complex in Lakeland, has recorded 277 career saves, including 110 in three seasons with Detroit. And by the way, a tradition at Opening Day for the Tigers will not be seen or heard this year.
The military flyover by A-10 aircraft from Selfridge Air National Guard Base has been grounded by the federal sequester. The Air Force recently announced that all demonstration flights have been cancelled for the rest of the year. The demonstration by the jets from Selfridge or the Toledo Air National Guard base have been going on for over a decade.
Back to Thursday's action on the fields, the White Sox couldn't finish off a 3-game game sweep against the Royals with Kansas City winning 3-to-1 while the Cubs held on for a 3-to-2 victory at Pittsburgh and take 2 out of 3 from the Pirates.