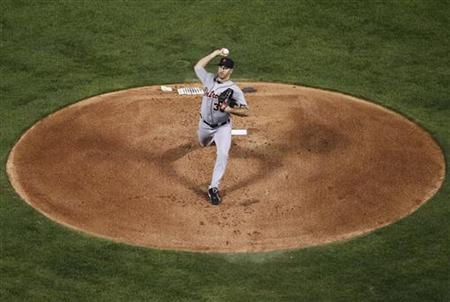 The Tigers bats went silent yesterday against CC Sabathia and the Yankees as New York blanked Detroit 7-to-0 to avoid being swept in the 3-game series at Comerica Park.
Justin Verlander suffered the loss, falling to 1-and-1 after giving up 3-runs on 7 hits over 7-and-a-third frames. Verlander allowed all of his runs in the second inning including a 2-run homer to number-9 hitter Jayson Nix on a high, hanging changeup that Nix clubbed over the left field fence. Sabathia cuffed Detroit on 4 hits over seven innings with 4 strikeouts as the Yankees improved to 2-and-4 while the Tigers dropped to 3-and-3. Detroit has the day off today before hosting Toronto tomorrow in the first of 3 afternoon games against the Blue Jays.
The White Sox are 4-and-2 after beating Seattle 4-to-3 in Chicago yesterday afternoon while the Cubs slipped to 2-and-4 after their 5-to-1 loss at Atlanta.
The Cubs home opener is set for this afternoon as they take on Milwaukee at Wrigley Field.