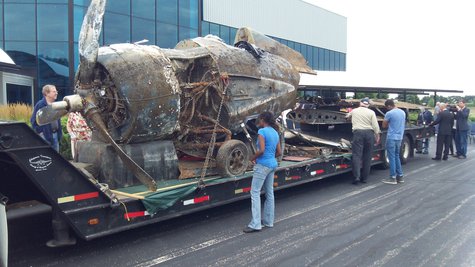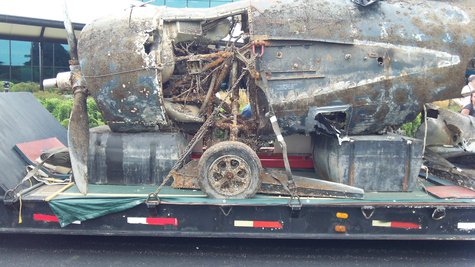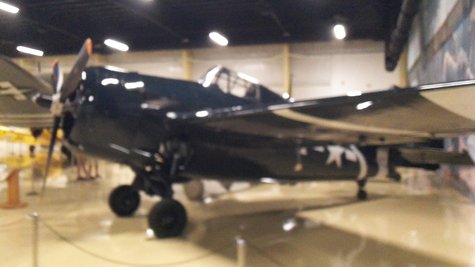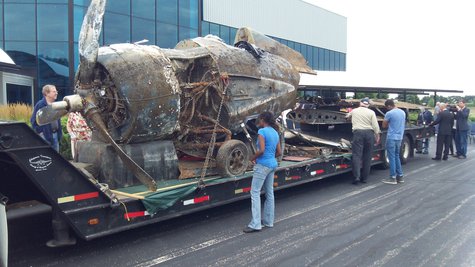 PORTAGE (WKZO) -- It's a big chunk of American aviation history that has been sitting on the bottom of Lake Michigan for the last 68-years, and now the wrecked and rusted remains of a Grumman FM-2 Wildcat has been fished out in pieces to be restored at the Aviation and History Museum in Portage, which knows a lot about Grumman Cats.
They already have the only complete set of Grumman made WW-2 fighters and dive bombers at the Air Zoo.
Taras Lyssenko and his crew at A & T Recovery found it and brought it to the surface, and has researched the history of this particular plane, which was used primarily as a trainer, first on the West Coast and then at the Chicago Naval Air Station where it was used to teach pilots how to take off and land from aircraft carrier decks.
As part of that research, he found out how it ended up on the bottom of Lake Michigan. Ensign William Forbes was using it to practice take-offs and landings on board the U.S.S. Sable, when on his third take-off, he lost power and ended up in the freezing water of Lake Michigan on December 28, 1944. Despite the fact that the ship hit his plane and cut it in half, he survived.
He finished his qualifications in another plane, flew missions in the Pacific, came back to the U.S. and became a lawyer and died in 2008 at the age of 85.
Lyssenko and his crew have located the wrecks of over 100 various types of aircraft on the bottom of the Lake, and brings them up one at a time, on order, as they find the Private funding and locate the experts who can restore them. He says bringing them up is the easy part. He says doing the paperwork with all the state and federal agencies involved takes a lot more time and effort.
\He says some of the aircraft they have recovered have flown again, but he says they are far too precious to take those risks these days.
He says Grumman was able to produce several of them a day for about $27,500 a copy. They estimate it will take about 5-years and cost about a million to restore this particular one. When its done, it will be given to a Museum that doesn't have any similar planes.
But while it is here, Air Zoo director Troy Thrash plans to use it as an educational tool for Aviation clubs, Academies and particularly colleges,
And the public will get to watch too. He plans to install web cameras at the Hanger where its being restored, so folks can watch at home.
Most of the pieces of the plane arrived Monday on the back of a semi for display in front of the Air Zoo just South of the Airport during a news converence.
Then it was driven back to the restoration hangers to wait until they finalize even more paper-work. Then the restoration will begin.