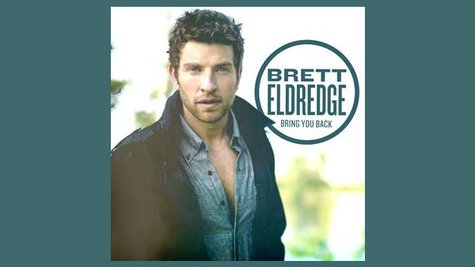 Brett Eldredge knows his fans are hungry for new music, and he's happy to serve up 12 new tracks on his debut album, Bring You Back . The Illinois native has been performing some songs from the album on his Couch Sessions series on YouTube, so his hardcore fans should already know quite a few of the songs on Bring You Back , including the hit "Don't Ya." Those fans have let Brett know they can't wait to pick up the full-length CD this week.
Brett tells ABC News Radio, "That's awesome that people want to hear more and more music. That makes you want to make more and more music."
Having his album hit store shelves is a huge milestone for Brett, who grew up frequenting music stores and buying every CD he could afford. Now that his own CD is on those same store shelves, Brett is amazed at the ride that brought him to this point.
Brett says of his CD, "It might just be a piece of plastic in a case. It's more than that. It's a journey. It's everything. It's all those sleepless nights you spent trying to figure out how to get there. It's all the songs you wrote trying to write that song to get on that album to make that a full, complete album."
Brett adds that he will be purchasing his album at some point on Tuesday.
Copyright 2013 ABC News Radio