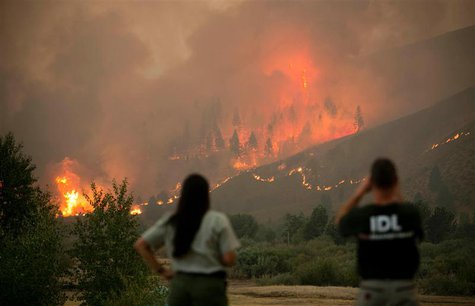 By Laura Zuckerman
SALMON, Idaho (Reuters) - A wildfire nipping at the edges of two Idaho mountain resort towns has destroyed about a dozen homes, prompting authorities to intensify calls to hundreds of residents to heed mandatory orders to evacuate, fire officials said on Tuesday.
It was unclear how many of the 1,000 summer residents of the towns of Pine and Featherville had actually left their homes ahead of the lightning-sparked blaze, which has already charred 99,000 acres and is now the nation's top firefighting priority.
It is the second time in two years that the towns, about 70 miles east of Boise, have been ordered emptied over fires burning in the Boise National Forest. Officials said some residents may be staying because of a false sense of security fostered by the successful defense of the towns last year.
"This is a more serious situation. We might be hopeful about protecting Pine and Featherville again, but it's a different beast," fire spokesman David Eaker said of the fire, citing drier conditions and more extreme fire behavior.
By Tuesday, flames from the so-called Elk Complex fire that erupted last Thursday had engulfed a number of houses and structures in a resort development near Pine that has been blocked by downed trees, Eaker said.
Another fire official, information officer Ludie Bond, put the number of homes destroyed by the blaze at 12 to 15. Hundreds of firefighters have been assigned to the blaze.
The fire, whose threats are compounded by steep, rugged terrain, low humidity, gusting winds and thick smoke, is the latest to cause substantial property losses during a U.S. summer fire season that experts predict could become one of the worst on record.
'A TINDERBOX'
Wildfires have raced across hundreds of thousands of acres in Idaho in recent weeks amid an uptick in drought conditions, high temperatures and strong winds, pouring thick smoke into mountain valleys, triggering air pollution alerts in several Idaho communities.
"The whole state is a tinderbox," said Jennifer Smith, spokeswoman for the National Interagency Fire Center in Boise.
Pat Christensen, co-owner with his wife of Cyndie's Featherville Café, is among residents of Featherville who has chosen not to leave. The café is still offering breakfast, despite a loss of power that happened three days ago when the fire damaged dozens of electric lines and power poles.
"It was real scary for a while but we survived this last year and we will again," he said.
Meanwhile a fast-moving wildfire that ignited on Tuesday afternoon destroyed at least three houses and forced the evacuation of about 400 homes in two upscale residential developments on the outskirts of Park City, Utah, said Park City Fire District Battalion Chief Steve Zwirn.
The cause of the blaze in scrub oak and sagebrush foothills about 40 miles east of Salt Lake City was unknown but there were reports of lightning strikes in the area mid-afternoon when the blaze erupted, Zwirn said.
The 400-acre fire was less than 5 percent contained early Tuesday evening.
The 2013 fire season has marked the most destructive blaze in Colorado history and has been among the most deadly on record for firefighters, 30 of whom have fallen so far this year.
Nineteen specially trained firefighters were killed on June 30 after being overrun by wildfire on the outskirts of the small Arizona community of Yarnell. The tragedy marked the greatest loss of life from a U.S. wildfire in 80 years.
(Editing by Cynthia Johnston and Lisa Shumaker)