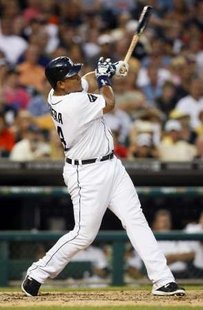 CHICAGO, IL (WTVB) - The first place Tigers yesterday afternoon avoided a 3-game sweep by the last place White Sox, holding on for a 6-to-4 win at Chicago. Miguel Cabrera belted a three-run homer, his 38th of the season, to spark a Tiger's rally after the White Sox went ahead 3-to-0 in the first inning. The victory allowed Detroit to finish with a 6-and-4 mark on their 10-game road trip. Rick Porcello earned the win Wednesday after grinding through a six inning effort in which he gave up 3-runs on 11 hits. Porcello has won five straight decisions and hasn't lost since June 30th, improving to 9-and-6. Joaquin Benoit earned his 15th save by closing out the eighth inning with a pair of strikeouts and then pitched around trouble in the ninth when the White Sox stranded two of the 15 runners they left on base yesterday.
Omar Infante's RBI single in the sixth inning snapped a 3-3 tie to put Detroit ahead for good and then a throwing error by Chicago later in the frame allowed two more runs to score. Detroit still leads the American League Central by six games after the second place Indians pulled out an extra inning win at Minnesota. The Tigers tonight open a big 5-game series at home against the third place Royals, who fell 7-and-a-half games off the pace in the Central by losing yesterday to the Marlins.
The Chicago Cubs were blanked by the Reds 5-to-0 as Cincinnati made it a 3-game sweep at Wrigley Field.