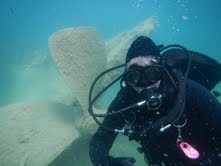 THUNDER BAY (WKZO) -- Call him the "Glubenor".
Rick Snyder got decked out in a rubber suit and scuba gear Tuesday and went diving at the site of an old ship wreck in the Thunder Bay Marine Sanctuary to promote underwater tourism in Michigan.
During the dive, he visited the wreck of the Monohansett, a wooden cargo ship that sank in 1907.
Its crew managed to survive the sinking.
The Governor managed to survive the dive. Actually he is a certified diver and no stranger to the sport.
He says Michigan's many sunken ships and underwater preserves are a wonderful asset for the state.