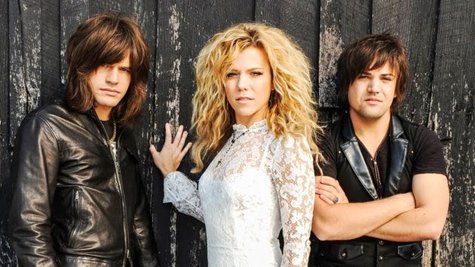 It seems everyone is talking about Miley Cyrus ' envelope-pushing performance at the MTV Video Music Awards, and most parents would agree Miley's hyper-sexual antics aren't something they'd want their kids seeing. Though The Band Perry has had success in the pop realm with "If I Die Young," parents don't have to worry about what they'll see at one of the group's concerts. The Perry siblings take pride in providing edgy, fun entertainment suitable for the entire family.
"Our favorite thing is when we're in a meet-and-greet and we see a kid and her mother and the grandmother. Like, three generations," says lead singer Kimberly Perry . "I think country music is more about sharing it with each other as friends and family. It is about real life. It feels very, like, blue collar and normal."
That's not to say The Band Perry's concerts aren't on par with pop shows in the production department. There will be plenty of bells and whistles on the family group's upcoming Pioneer World Tour, launching November 8 in Sweden.
Speaking of that big concert production, Kimberly says, "There's certainly a place for that, and pop music does that the best of the best if that's what you're in the market for. But for country, it's true blue and we're just really proud to be a part of it."
The Band Perry takes their show to Sevierville, TN Thursday night.
Copyright 2013 ABC News Radio