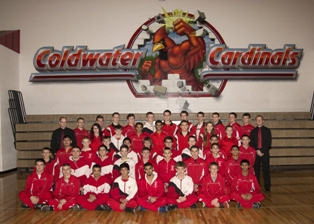 COLDWATER, MI (WTVB) - In Branch County high school sports, the wrestling season opened Saturday statewide, including Coldwater finishing with a 1-and-4 record at the Brooklyn Columbia Central Invitational. The Cardinal's lone victory came in their final match of the day with a 48-23 win over Marshall. Earlier, Coldwater was defeated by Mason, Anchor Bay, Columbia Central and Ida. Tecumseh won the tournament, beating Mason in the finals. Going 4-and-1 on the day for Coldwater were Mohamed Aljabaly and Jerry Schultz while finishing 3-2 were Louden Tucker, Faheem Abdullah, Randall Linton, Jesse Miller and Cooper Murphy. The Cardinals are back in action Wednesday at Mendon and then on Saturday, it's their home opener with the Coldwater Classic Invitational.
Also this past weekend in wrestling, Union City finished fifth out of six teams with a 2-3 record at the Colon Invitational, which was won by Reading.
The Coldwater boys and girls bowling teams started their seasons Saturday in a Scotch Doubles Tournament with six schools competing at the AMF Lanes in Sturgis. The event featured two person co-ed teams and finishing in first place was Coldwater's Haylee Harmon and Buddy Bailey. They won the tournament by beating another Coldwater pair in the finals with the victory over Dana Bailey and Austen Reichhart.
On tonight's high school schedule, in girls basketball, it's Bronson at Quincy while in gymnastics, it's Coldwater at Jackson Lumen Christi. Today on the Coaches Corner, it's Coldwater girls basketball coach Ken Smoker.