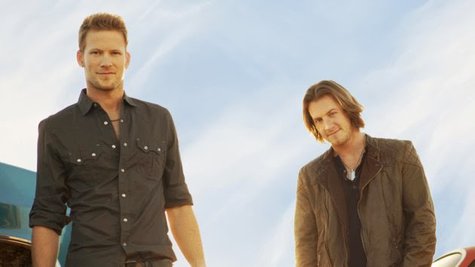 Is Florida Georgia Line hitting the studio and the concert trail with Garth Brooks ? If the duo's Tyler Hubbard and Brian Kelley had their way, they'd be along for the ride when Garth launches his world tour next year.
Brian says, "Garth, if you're listening, we want to tour."
As for other possible collaborators, Florida Georgia Line's wish list is all over the musical map. Brian adds, "Outside of country, Drake , Rihanna , we're huge fans. Wiz Khalifa . We'd love to do something with Jason Aldean ."
No matter how much respect FGL has for an artist, there is a chance a collaboration just wouldn't come together in the studio.
"If we're in the studio with somebody writing something, and it works out and sounds like we could make it happen with one of our favorite artists, we'll take a chance," Brian says. "But you never know."
Of course, Florida Georgia Line teamed up with Nelly to great success with the "Cruise (Remix)." They'll hit the road with Jason Aldean in 2014.
Copyright 2013 ABC News Radio