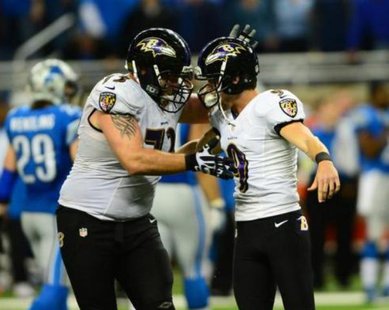 DETROIT, MI (WTVB) -The Detroit Lions fell to the Ravens 18-16 in Monday Night Football at Ford Field and lost control of their own destiny in their chance to capture the NFC North and make the playoffs. Justin Tucker booted six field goals for Baltimore, including a 61-yarder with 38 seconds to play for the game winner.
Detroit entered the weekend tied for first in the North with Chicago but now the Lions have dropped to third place with their 7-and-7 record, slipping behind the 8-and-6 Bears and the second place Packers, who are 7-6-and-1. Baltimore improved to 8-and-6 and moved into the sixth and final playoff position in the AFC.
Detroit quarterback Matthew Stafford and Lions All-Pro receiver Calvin Johnson both came up short when it counted most as Stafford was intercepted three times, including once on Detroit's final drive and Johnson dropped 3 passes, denting several key opportunities for his team.
Detroit will now need some outside help to qualify for the postseason with two games to play as the Lions host the New York Giants on Sunday and then finish up on the road against the Minnesota Vikings.