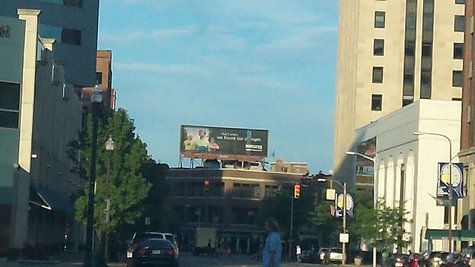 KALAMAZOO (WKZO) -- Construction has already begun on two electronic billboards on Stadium and West Main in Kalamazoo and last night, Adams Outdoor Advertising received permission to erect the one that may be the most visible in the city.
The City of Kalamazoo's Historic District Commission voted to allow the billboard firm to replace the current sign on the Old Peninsula Brew Pub in Downtown Kalamazoo with one of the new digital billboards.
In keeping with a new ordinance approved by the city earlier this year, Adams has agreed to remove half a dozen other static signs around the city in exchange.
The members of the Historic District Commission split on whether a huge lit sign that changes its message every few seconds really fits with the historic nature of that part of Kalamazoo, but the majority voted for passage.
Portage already has one of the billboards at Westnedge near Meijer. Kalamazoo Township has allowed one to be placed across the street from Borgess Medical Center along Gull Road. Western Michigan University is leasing land facing US 131 at their B.T.R. Park for one of the big computer driven billboards.