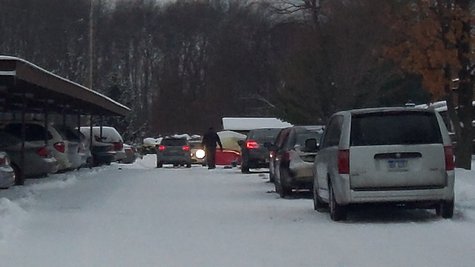 PORTAGE (WKZO) -- A man who set off a Manhunt in Portage Tuesday after he allegedly stabbed the mother of his child, and was then shot by a Portage Police officer, has been arraigned.
33-year-old Michael Mackins is a repeat offender from Illinois who is on parole.
He was formally charged with four felonies yesterday, including assault and weapons charges and ordered held on 250-thousand dollars bond.
Police say Mackins was staying with his victim but she wanted him to leave, going so far as to buy him a ticket back to Illinois. He refused, allegedly threatening to blow up her apartment and their three year old, and then police say stabbing her repeatedly in the car on Tuesday.
State Police Lt. Chuck Christiansen says he then fled on foot, was confronted by a Portage Police officer and shot in the leg.
Mackins has a long criminal history in Illinois that includes drug counts, fleeing and eluding and burglary.
He was wearing a suicide vest during his video arraignment, and sitting in a wheelchair, still recovering from the bullet wound.
His victim has also reportedly been treated and released.
The Officer remains on administrative leave pending a shooting review.