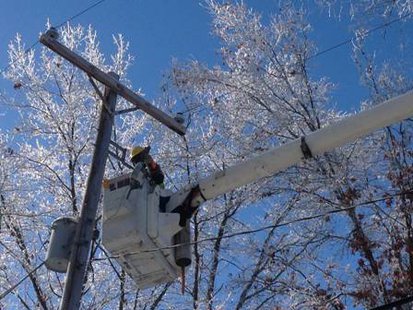 UNDATED (WKZO) -- Consumers Power says they have about 25-hundred workers assigned to the job of restoring power to their customers in west Michigan and they plan to work straight through the holiday.
Utility executive Mary Palkovich says restoring power may be their biggest job, but their biggest concern right now is that they still have 5,000 downed wires, and they don't know which may still be carrying a charge.
She says if you see one keep your distance and notify authorities.
Yesterday and overnight they had to take breaks because of the very cold temperatures.
Another big concern today is that more snow and windy conditions could cause new outages to occur.
With all the ice in the trees it's really quite beautiful outside. But that ice is also part of the ongoing problem according to Consumers Power Spokesman Jim Anderson who says they could see outage numbers go back up over the next 24-hours, as ice covered limbs will weaken and break with windier conditions, especially with the forecast calling for additional snow.
Thousands of Utility customers are still without power across West Michigan, but some who may not have expected to have power restored in time for Christmas got their small Christmas miracle as crews have begun to restore big blocks of power to homes in the region.
A little over a thousand remain without power in Kalamazoo County, and nearly half of those who were blacked out in Calhoun County have had their power restored in time for the big day.
They have also made inroads in Barry County, but still nearly half the homes there have no power.