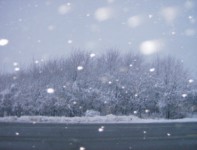 Two siblings from Windsor, aged 9 and 7 were killed and the rest of their family left in critical condition in one car. A 54-year-old Allen Park man died in another crash.
Survivors say everything turned white and then they began to hear the collisions behind them. There were at least 20 people who were rushed to area hospitals with serious injuries. It took most of the day to clear the wreckage.
There was a smaller and less deadly pile up on I-94 in a White Out near Paw Paw early yesterday afternoon. State Police say it began when a semi went out of control and rolled onto its side in heavy snow and cars and trucks began to pile up behind it. At least a dozen cars and 9 semis were involved in the Chain reaction crashes that followed. There was only one serious injury reported.