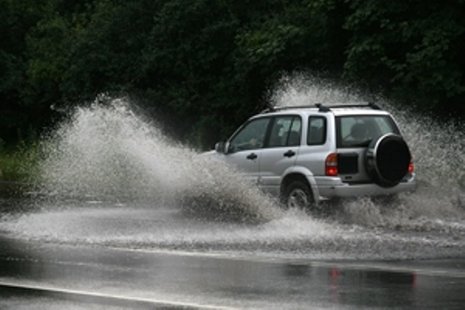 UNDATED (WKZO) -- Warnings about the Portage River overflowing at Vicksburg have been canceled but there have been some real damage caused by the
Sudden snow melt and heavy rains in West Michigan.
A number of homes in Big Rapids have been evacuated, some by boat as the Muskegon River has overflowed its banks along Riverside Drive and 183rd Avenue, and those homes have been flooded.
A washout at a culvert along Hickory Road in Muskegon County created a 50 foot gap in the road and a 25-foot drop to the ground below. It swallowed up a car with two young men in it, who managed to survive.
The car ended up roof down in the swollen creek below. Kyle Cloutier says he and Nick Wallace were down to their last breath when they escaped the flooded car. They desperately called 9-1-1 for help, and after several tries, finally got service. They were able to use GPS to locate the pair.