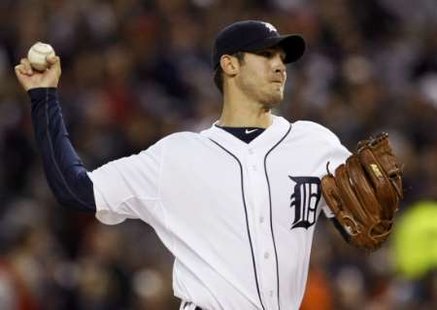 The Tigers have fallen into a virtual first place tie with the Indians in the American League Central with their 3-to-1 loss yesterday afternoon at Tampa Bay as the Rays took the rubber game of the 3-game series. 13 days ago, Detroit had a 5-game lead over Cleveland but the Tigers have dropped 8 of 12 and 5 of their last 6 while the Indians have won 10 of their last 13 and on Friday, Detroit starts a 4-game series at Cleveland. The Tigers were held to 7 hits Sunday with their lone run coming in the fourth inning on Miguel Cabrera's 25th home run. Rick Porcello gave up three runs and eight hits in six innings as his record fell to 4-and-6.
The Detroit offense was 1-for-10 with runners in scoring position and they failed to cash in after loading the bases with no outs in the seventh inning. The Tigers have scored runs in only five of their last 36 innings even though Detroit leads the majors in team batting with a .280 average. Detroit this afternoon opens a 4-game series in Toronto on Canada Day.
The White Sox yesterday were shutout by Cleveland 4-to-0 as the Indians turned 4 double plays for their first 4-game sweep in Chicago since 1948. And the Cubs won yesterday 7-to-6 at Seattle where former Tiger Jeremy Bonderman took the loss, slipping to 1-and-2 with the Mariners this season.