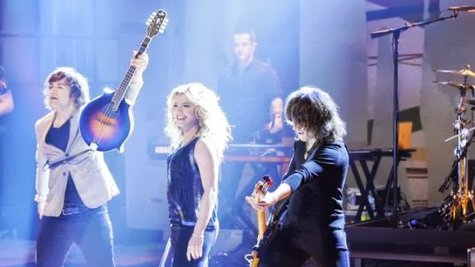 The Band Perry will be close to home in Nashville Thursday headlining the Music City 4th of July: Let Freedom Sing concert at Riverfront Park. While the sibling trio will bring their backing band along, they are teaming up with another musical act at that show too.
"We get to play three of our songs with the Nashville Orchestra as well, which will be the first time that we've played with an orchestra or marching band of any kind," says Reid Perry . "So we're really looking forward to that."
His sister Kimberly Perry can't wait to sing with the Nashville Symphony either. She says, "I've heard that that's a really emotional thing."
After The Band Perry's performance, the Nashville skyline will light up with a huge fireworks display. Reid and his brother Neil usually shoot smaller fireworks with their dad on the Fourth of July, but Neil has bigger dreams in mind this year.
"I'm hoping than I can get my hand on the firework button during the Nashville show," he says.
The Music City 4th of July: Let Freedom Sing concert is free and open to the public.
Copyright 2013 ABC News Radio