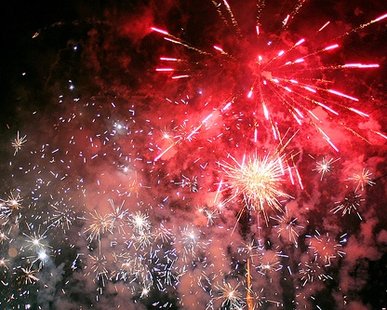 SOUTH HAVEN (WKZO) -- They lit up the shoreline in South Haven last night. The Kalamazoo Speedway also had a fireworks show after their race last night, but they were the exception.
This year's Field of Flight Air Show and Hot Air Balloon Competitions also began last night, but they will feature their fireworks this evening. Windy conditions grounded the first balloon launch Wednesday evening.
The event will begin to pick up momentum today with rock acts and a magic show on the main stage, a balloon launch at 6:30 if the weather cooperates, and the region's largest fireworks show at dusk.
There will also be the big annual fireworks show in Portage at McCamley Field, sponsored by the Portage Rotary. .
There will also be local fireworks shows on the 4th in Colon, Constantine, Decatur, Sturgis, Schoolcraft, Lawton, Plainwell, Richland, Dorr, Douglas, Saugatuck and Hastings.
Some communities also have festivals, parades and other events to mark the Nation's birthday.