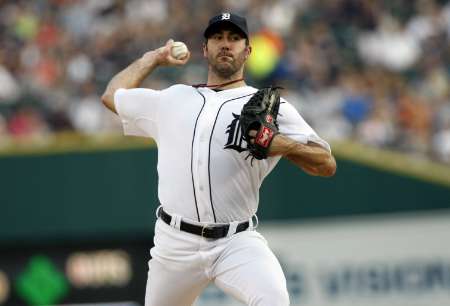 Tiger pitching gave up 23 hits last night to the White Sox, who broke things open late to bury Detroit 11-to-4 to start a 3-game series at Comerica Park. Chicago is last in the American League in runs scored this season but they sent 13 batters to the plate in the eighth inning and put up seven runs on the board to turn a 1-1 tie into an 8-to-1 lead. In the end, they finished with season highs in hits and runs scored. Justin Verlander took the loss after allowing 12 hits and 5 earned runs over seven plus innings. Verlander's record dips to 9-and-6.
Miguel Cabrera hit his 29th homer of the year for Detroit, a 2-run shot in the eighth inning, giving him a major league high 92 rbi's. He broke the franchise record for homers before the All-Star game, but Cabrera also appeared to aggravate his sore back by leaping for a high throw in the top of the eighth. It ended any chance that he would join teammate Prince Fielder in next Monday night's Home Run Derby.
The Tigers yesterday also put second baseman Omar Infante on the 15-day disabled list and called up Hernan Perez from Double-A Erie to replace him. Perez, who started last night, went 0-for-4 against the White Sox. Infante hasn't played since last Wednesday when his ankle was bruised as he took a hard hit from Toronto's Colby Rasmus, who was sliding into second base. The Detroit loss trimmed their Central Division lead over the second place Indians to 2-and-a-half games after Cleveland beat Toronto 3-to-0.
Also last night, the Chicago Cubs slugged 5 home runs in the 7-to-2 victory over the Angels at Wrigley Field.