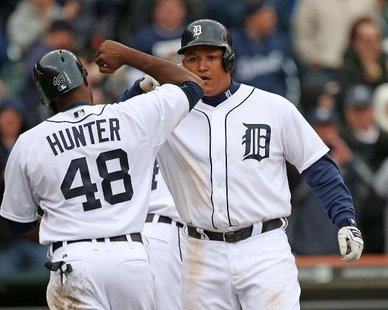 It's back-to-back wins for Detroit for the first time in more than 2 weeks with a 7-to-3 decision last night over the White Sox but the talk this morning is more about an injury to slugger Miguel Cabrera. The Tiger's third baseman exited the game in Chicago in the fifth inning due to a sore left hip flexor muscle. He was replaced by Don Kelly and is listed as day-to-day.
Coming off an All-Star Game start, Max Scherzer threw eight strong innings and got back in the win column improving to 14-and-1 to bounce back from a July 13th loss against Texas. He gave up four hits to the White Sox and a pair of runs while striking out five without issuing a walk. Chris Sale, who was the winning pitcher for the American League at the Midsummer Classic, struck out 11 last night in an eight-inning performance but suffered the defeat to slip to 1-and-7 over his last nine starts.
Victor Martinez carried the offense for Detroit with 4 singles and 3 rbi's while Torii Hunter launched a solo homer. The Tiger victory padded their lead in the American League Central over the second place Indians to 2-and-a-half games after Cleveland lost 2-to-1 at Seattle. Rick Porcello starts for Detroit tonight in game 2 of the 4 game set with the White Sox.
The Cubs last night beat the Diamondbacks 4-to-2 in Phoenix.