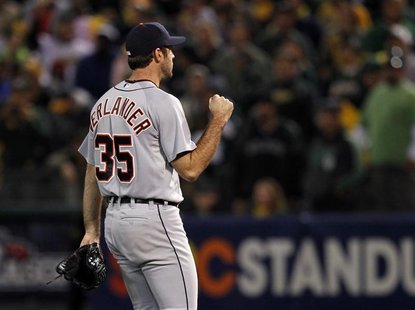 The Tigers have taken control of the American League Central with yesterday's 4-to-1 win over the second place Indians. Detroit's 3-game sweep over Cleveland at Comerica Park put the Tigers 5-and-a-half games up on the Indians. Tonight, Detroit will shoot for its fifth straight win when they open a 3-game series at Kansas City. Tiger rookie left-hander Jose Alvarez picked up the win yesterday in his big league debut. He struck out seven while giving up one run on three hits and a walk over six innings. Joaquin Benoit closed it out for his third save. Don Kelly clubbed a go-ahead three run homer in the sixth inning for Detroit. Alex Avila drove in the other run for the Tigers on a sacrifice fly
Doug Fister goes to the mound tonight for the Tigers against the Royals.
The White Sox beat the A's 4-to-2 yesterday in Chicago while the Cubs topped the Pirates 4-to-1 at Wrigley Field.