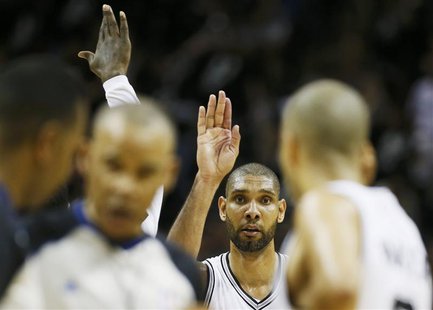 SAN ANTONIO (Reuters) - Tim Duncan scored 10 points and made seven rebounds as the San Antonio Spurs took a 50-44 halftime lead over Miami Heat in Game Three of the National Basketball Association (NBA) Finals on Tuesday.
Duncan scored the game's opening basket and the hosts never relinquished the lead, which they stretched to 11 points when Gary Neal drained his third three-pointer with about four minutes left in the half.
Neal had 14 points on 5-of-10 shooting, including a three-pointer at the halftime buzzer, for the Spurs, who are in the Finals for the first time since winning their fourth NBA championship in 2007.
Dwyane Wade had 12 points on 5-of-7 shooting with five assists and three steals for the Heat, who are looking for their second consecutive NBA title.
The best-of-seven championship series is tied 1-1 with Game Four scheduled for Thursday in San Antonio.
(Reporting by Frank Pingue in San Antonio; editing by Julian Linden)