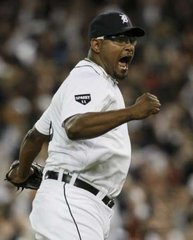 KANSAS CITY, MO (WTVB) - Tigers' closer Jose Valverde gave up a game-tying 2-run homer in the bottom of the ninth at Kansas City on an 0-2 pitch with 2 outs and Detroit went to lose 3-to-2 to the Royals in ten innings yesterday afternoon in the rubber game of the 3 game series. Valverde's blown save wasted an outstanding outing by Detroit ace Justin Verlander, who struck out eight while allowing just three hits over seven shutout innings. Valverde's second chance with the Tigers may have come to an end. He's allowed five home runs in his last 5-and-a-third innings of work. Phil Coke took the loss Wednesday, falling to 0-and-4 after surrendering the Royal's walk off winning rbi single in the tenth.
The Tigers have the day off today before continuing their road trip tomorrow night against the Twins at Target Field. Detroit's Central Division lead slipped to 4-and-half games over the second place Indians, who won again at Texas.
The White Sox game with the Blue Jays last night in Chicago was rained out while in the afternoon at Wrigley Field, the Cubs lost 2-to-1 to the Reds.