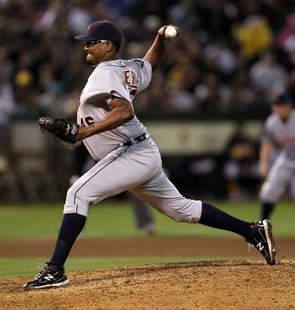 DETROIT, MI (WTVB) - After manager Jim Leyland announced Thursday that Joaquin Benoit would pitch the ninth inning when "healthy and available," the Tigers designated Jose Valverde for assignment Friday.
Valverde has struggled in his last eight outings, allowing 11 earned runs in 7 1/3 innings with two blown saves. In the ninth inning Wednesday against the Orioles in a non-save situation, he gave up four earned runs in 10 pitches.
The Tigers have 10 days to either trade Valverde, release him or outright him to the Minor Leagues. Valverde would have to clear waivers and accept an assignment in order to be outrighted.
"We have asked him if he would go to Triple-A for us and try to work with him there, try to get him straightened out," Tigers president/general manager Dave Dombrowski said. "We feel that's something we could accomplish there, if we were going to accomplish it, easier than here. It's a very difficult situation to fix that here with his arm angle. We're trying to get his split back."
The Tigers signed Valverde as a free agent on April 4 before bringing him up to the Majors on April 24. He had a 0.75 ERA in his first 12 appearances.
"We think we have a guy that can still close games for us, if we get him fixed," Dombrowski said. "His velocity has been fine, of course he has had command problems. The last couple weeks haven't been good. Before that, he threw the ball fine, and that's why we're hoping we can get him back. We figure we have nothing to lose if we try."
Detroit recalled right-handed reliever Al Alburquerque, who has been in the Minors since May 16 after struggling with his command earlier this season, from Triple-A Toledo.
Valverde hasn't declined a move to the Minors, but said he had to give it some time to think it over.
"Our goal, if he did accept it, wouldn't be to keep him there for an extended time," Dombrowski said. "It would be more of a matter of trying to get him fixed, and see if we can get him back to throwing the ball well and trying to get him back here."
(courtesy www.detroittigers.com)