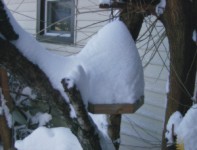 KALAMAZOO (WKZO) -- Its not just chilly outside but bitter cold as we approach late March and it may not let up for a while, according to long term forecasts or at least as far out as forecasters are willing to guess.
WMU meteorologist Robert Ruhf says we seem to be set in a wintry weather pattern that isn't likely to change anytime soon.
He says mother nature has a way of evening things out over time and on paper at least this will end up looking like a typical winter, with a typical amount of snowfall, when it was any thing but. He says at first it looked like it was going to be another repeat of last year's freakishly warm winter.
It's going to be another cold one today, with windchills in single digits this morning. You may still want to watch for slick spots on area roadways.
A lake effect snow advisory remains in effect for Kalamazoo and the lakeshore counties thru 10am.
While you may be sick of winter, it's much preferable in Michigan's fruit country to last year, when freakishly warm temperatures tricked trees into blooming early, only to be wiped out by April frosts.
Apple and Cherry grower George Wright says let it snow let it snow let it snow. They can use the moisture.
Wright says they are actually one to two weeks behind schedule, which he hopes will reduce the threat of a freeze after blossom season this spring.
\