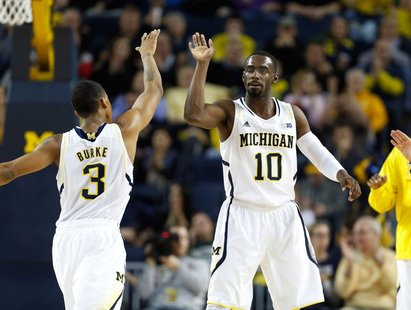 The Palace of Auburn Hills will be rocking today with Michigan State and Michigan fans as the NCAA Men's Tournament moves into the next phase of March Madness with second round action. The Palace is hosting four games today with the winners moving on to third round play, also at the Palace on Saturday. Michigan State, the third seed in the Midwest Region, will get the ball rolling this afternoon with a 12:15 matchup against 14th seed Valparaiso. Then tonight at 7:15, it's Michigan, the South Region's fourth seed, taking on 13-seed South Dakota State. The Palace schedule is part of 16 tournament games set for today as the Round of 64 gets underway. If M-S-U wins this afternoon, they'll play either Memphis or St. Mary's on Saturday while a Michigan victory would send the Wolverines up against either Arkansas or VCU. Last night, the opening round wrapped up with James Madison and LaSalle advancing with wins in the First Four.
Also last night, Western Michigan got by North Dakota State 72-71 in overtime in Kalamazoo for a first round win in the College Basketball Invitational. The Broncos, now 21-and-12, will face Wyoming on the road in the quarterfinals on Monday.
And the season ended last night for Detroit Mercy with their 83-to-68 loss at Arizona State in the first round of the National Invitational Tournament. The Titans finished with a 20-and-13 record.