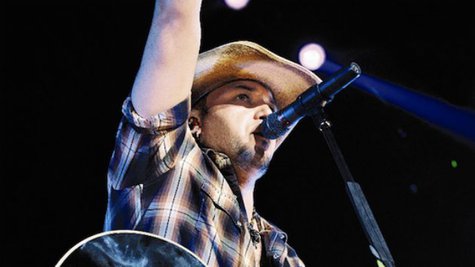 Jason Aldean is at the top of his game right now selling out stadiums and arenas on his Night Train tour. Though he took a small acting role in the film Sweetwater this year, fans don't have to worry about Jason straying too far from the concert stage.
He says, "At the end of the day, I'm a musician. That's what I am, and I don't really want to be anything other than that."
That means Jason isn't going to judge or participate in a reality show any time soon either. He's seen what being a coach on The Voice has done for his pal Blake Shelton 's career, but that kind of gig just isn't for him.
"I never say never on things," Jason explains. "I think you've got to take certain situations as they come. You know, so it's hard to say. That show that Blake's on, I'm sure nobody knew that that thing was gonna explode the way it did."
The kind of time it takes to be on a reality show isn't worth it for Jason.
He says, "I would be miserable if I wasn't out on the road playing my shows. If I had to sit in a building and I had to focus more on doing a show like that versus going out and playing my shows live. I just, I wouldn't be happy doing that."
Jason's live concerts are one of the many reasons he's up for ACM Entertainer of the Year, and fan voting in that category is now underway at VoteACM.com . Jason will perform on the 48th Annual ACM Awards Sunday, April 7 on CBS.
Copyright 2013 ABC News Radio