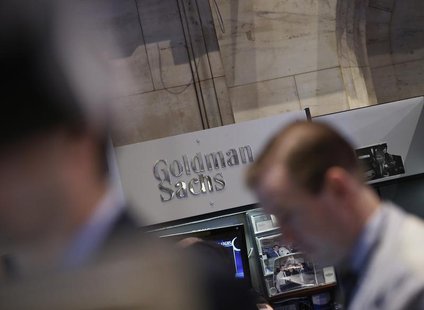 By Estelle Shirbon
LONDON (Reuters) - Britain's tax authority approved a deal with Goldman Sachs partly because the U.S. bank was threatening to pull out of a new tax framework, which would have embarrassed the government, a court heard on Thursday.
Activist group UK Uncut Legal Action has asked the High Court to declare that the 2010 settlement between Goldman and the tax authority (HMRC), worth up to 20 million pounds ($30 million) to the U.S. bank, was unlawful.
The action stems from public anger in Britain about how big firms succeed in paying less tax than many ordinary people hit by a stagnating economy and government spending cuts.
The risk to Goldman Sachs is further damage to its image in Britain after a public outcry in January caused it to scrap plans to delay paying bankers' bonuses to make the most of an income tax cut for high earners.
In financial terms, the disputed $30 million is a drop in the ocean for a bank that paid its employees $12.9 billion in compensation and benefits last year.
The case concerns a deal agreed by then HMRC boss Dave Hartnett and Goldman Sachs in November 2010 to end a long-running dispute over a now-banned tax avoidance scheme involving the payment of bonuses to UK staff via an offshore tax haven.
Other banks that had been using the scheme settled with HMRC in 2005, but Goldman Sachs resisted paying what HMRC said it owed for a further five years.
Ingrid Simler, a lawyer representing UK Uncut Legal Action, told the High Court that Hartnett wrongly agreed that Goldman Sachs should pay the principal it owed but not the interest that had accrued during those five years.
"OFF THE DEEP END"
The tax authority's High Risk Corporate Programme Board rejected the deal, infuriating Goldman Sachs which "went off the deep end", according to an email from Hartnett read out in court.
The bank threatened to withdraw from a new code of practice aimed at reducing tax avoidance by banks which had been announced by finance minister George Osborne the previous week, according to Hartnett's written witness statement to the court.
"I was concerned that withdrawal would have embarrassed the Chancellor," Hartnett said in the statement, a copy of which was circulated by UK Uncut.
In an internal email dated December 7, 2010, Hartnett cited the risk of "major embarrassment" to himself, HMRC and Osborne. He eventually approved the deal despite board opposition.
"This case shows what is going on behind closed doors and the headline-grabbing announcements - tax avoidance as usual, sweetheart deals to avoid red faces of ministers and giving in to threats from big business," UK Uncut Legal Action said in a news release.
The Treasury, HMRC and Goldman Sachs declined to comment.
James Eadie, a lawyer representing HMRC, told the court it was wrong to suggest there had been a "cosy back-room deal".
He pointed to a report by the National Audit Office published in June last year, which found that five settlements between HMRC and big firms, including the Goldman deal, were reasonable because HMRC may have received less if it had litigated and lost.
Eadie said that details of the agreement were protected by taxpayer confidentiality but that those who were in possession of the full facts had determined that the deal represented good value for taxpayers.
The court will reserve its judgment to a later date.
(Additional reporting by Lauren LaCapra in New York; Editing by Elaine Hardcastle and Helen Massy-Beresford)