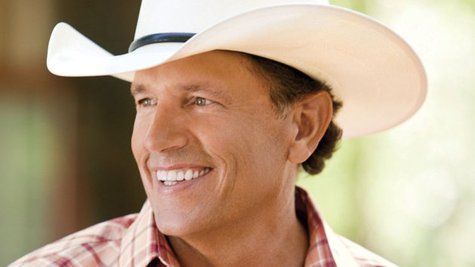 No one on the country chart today has had more hits than George Strait , so it's hard to imagine he'd ever doubt his ability to deliver a song in the studio. It turns out George needed an outside vote of confidence when he went in to cut his latest single, "Give It All We Got Tonight."
George admits he was intrigued with the song from the start. He says, "First time I heard it I thought, 'Hmm, that's a great song. A little different for me, you know, a little risqué kinda.' I'm thinking, 'I don't know if I can pull this off or not.'"
George talked it over with Brian Wright from his record label, who told him to just go for it in the studio. Strait was pleased with the results.
"I just love it," George says. "I mean, it's a little different, the melody's a little different, and great lyrics."
He adds with a big laugh, "It's kinda about parking, you know, which I've done a few times back in the early days."
"Give It All We Got Tonight" is the lead single from George Strait's new album, Love Is Everything , due out Tuesday, May 14.
Copyright 2013 ABC News Radio